COMPACT DISCS ONLY
NATURAL GAS JAZZ BAND – The 40th Anniversary Recording
<![if !supportEmptyParas]> <![endif]>
Unlike many traditional jazz bands, the NGJB favors selections which may not be a part of the average musical menu. Here spirited numbers such as Stevedore Stomp, Willie the Weeper, My Memphis Baby, and Goin' Home provide an opportunity for the band to cut loose a bit. Several blues selections, including Alcoholic Blues, Sobbin' Blues, Terrible Blues, and Redman Blues go to the root of New Orleans jazz. In Alcoholic, Carl Lunsford's vocal bespeaks mankind's struggle with drink. Jim Brennan's tuba solo in Terrible is truly a classic. And, Redman is a "down and dirty" gut wrencher. Sobbin' nicely rounds out the blues spectrum with its haunting melodic patterns. Bob Murphy's soprano sax treatment of Flamingo is a somewhat more modern o­ering but it gives one a chance to hear this artist in a mellow mood. No jazz recording is worth its salt without some downright danceable music. Down Where the Sun Goes Down tickled the toes of old Firehouse Five listeners. Megametz, which pianist Ed Metz, Sr. wrote for his Revelers group, and Cabin in the Pines, once a Louis Armstrong vocal, will also get you out on the dance ‑oor with your honey. I Double Dare You gives Phil Crumley a chance to warble to you as does Goin' Home where Bill Carson joins him on the vocal. The band's professor on the piano, Rich Owens, is often featured on this disc, but he sings too on Float Me Down the River and then Deed I Do, where his piano solo and vocal are backed up by the tasty banjo work of Carl Lunsford,Jim Brennan's tuba, and the drumming of Warren Perry.
<![if !supportEmptyParas]> <![endif]>
This recording by the peripatetic and seasoned, if not venerable, Natural Gas Jazz Band is notable in several respects. It marks the thirty-fifth year the NGJB has been together, with four of the original members (Crumley, Murphy, Lewis, and Perry) still performing. The recording is also significant as the virtuosity and youthful energy of Pat Dutrow on banjo and Rich Owens on piano have propelled the band to new heights of musical excellence. This, coupled with Bob Murphy's soprano sax brilliance, makes the recording a listener's delight. The tune selection includes a variety of numbers which will appeal to jazz aficionados and dancers alike. While most of the numbers are well known to all, several deserve special comment. The newest selection, Daybreak, by Pete Clute, composed in 1994, was delivered over to Bob Murphy while Pete was playing piano with the NGJB. Pete was with the NGJB for ten years after spending twenty-eight with Turk Murphy. He passed away in 2001. This is the first recording of Daybreak.  It features Bob's soprano sax and arrangement. The haunting and soulful composition brings back fond memories of Pete. Water From An Ancient Well, composed by Abdullah Ibrahim also features Bob Murphy. It has become one of the band's most requested selections despite the fact that it contrasts significantly from what a traditional jazz band might be expected to play. The composer's South African heritage can be heard clearly. Sailin' Down Chesapeake Bay puts the spotlight on Pat Dutrow's nimble banjo artistry. Not only is Pat a virtual metronome for the band but this selection displays his complete mastery of his instrument. Pianist Rich Owens is the band's newest member; he joined the NGJB in 2004 and this is his first recording with the band. While Dutrow on banjo, Dave Lewis on tuba, and Warren Perry on drums have played together for years as the core of the rhythm section, Owens' addition as a powerhouse piano player is nothing short of a shot in the arm. His sheer strength and musical imagination bolster every aspect of the band sound, whether it is his backup rhythm or soloist pyrotechnics. Just listen to Bye, Bye Blues and Georgia on My Mind.     The musical comfort level of the front line, consisting of Bob Murphy, soprano sax, Bill Carson, trombone, and leader Phil Crumley, cornet, is the key to the NGJB sound. These musical veterans have produced a recognizable sound and style long popular with band fans. On this recording a couple of "old favorite" vocals are presented: Phil Crumley sings Angry, and Bob Murphy warbles T aint No Sin in the hopes that some listener will "take off her skin and dance around in her bones."
NATURAL GAS JAZZ BAND – THE BEST OF (1998)
is comprised of 17 of the band's best received and most requested numbers. Bob Murphy's Stardust andNuages are fine examples of his soprano sax virtuosity. Peter Clute'sragtime brilliance shows through on New Orleans Joys, Red Flannel Rag, and Maple Leaf Rag. Vocal favorites feature Dave Lewis on Saloon and Old Bones, Warren Perry on Yama Yama Man, Phil Crumley and Ed Zimbrick on Radio, and Phil Crumley on Someday Sweetheart. The band gets the juices going with Down in Honky Tonk Town, Sorry, Minor Drag, and Limehouse Blues. On the calmer side, Cannonball Blues, I'll Be A Friend With Pleasure, and Pete
Clute's composition, Forever, never fail to please.
<![if !vml]>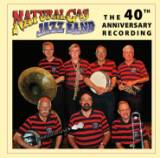 <![endif]>
<![if !vml]>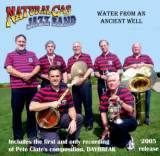 <![endif]>
<![if !vml]>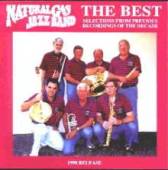 <![endif]>
COMPACT DISCS & CASSETTES
<![if !supportEmptyParas]> <![endif]>
SILVER ANNIVERSARY FAVORITES (1995) Commemorates the band's 25th
anniversary and features a recently-discovered Lu Watters composition,
three new Pete Clute compositions, Bob Murphy's Stardust, and Dave Lewis'
vocal on Old Bones. Other titles include Red Flannel Rag, The Chant, Blue
Turning Grey Over You, Yama Yama Man, etc for a total of 15 tunes.

<![if !supportLineBreakNewLine]>
<![endif]>
<![if !supportEmptyParas]> <![endif]>
<![if !supportEmptyParas]> <![endif]>
CASSETTES ONLY

TWENTY YEAR ANNIVERSARY (1991) Sixteen tunes, including Bob Murphy
on Nuages and Morning Glory. Two ragtime favorites plus Saloon, Limehouse
Blues, Maple Leaf Rag (arr. Turk Murphy), Red Hot Band, I'll Be a Friend
with Pleasure, Down in Honky Tonk Town, Riverboat Shuffle, etc.
NGJB With GEORGE PROBERT Outstanding musical moments with the
two soprano saxes of Bob Murphy and the incomparable George Probert.
Featured tunes include Canal Street Blues Keyhole Blues, At the Jazz Band
Ball, Struttin' With Some Barbeque, etc.
---
<![if !vml]>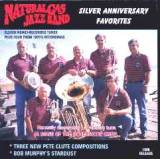 <![endif]>
<![if !supportEmptyParas]> <![endif]>